While you are doing business either online or offline, you need to have a hold of strong marketing activities. One of the most important and effective marketing activities is none other than Email Marketing. But the fact is- it's really difficult for your marketing team to send the right emails to the right people at the right time!
As you must have noticed there are lots of 'right' here! However, marketing is all about doing the 'right' thing. You just cannot irritate your subscribers, leads, or potential customers. This makes your business look bad and greatly hampers the brand sooner than you can imagine.
So, today we are going to talk about the aspects of WordPress email marketing and how you should use them in the right way to bring the best out of it. But before that, you need to know,
How to Do the 'Right' Thing In Marketing
You might think marketing is difficult. Yes, it is difficult as sometimes there are no right people or right time! In such cases, everyone seems to fit the right criteria and 'now' turns out to be the right time.
Don't get us wrong, we are not trying to make things complex or confuse you. All we are trying to say, marketing is about making the right decision and action. For this, you need specific sets of tools for designing, sending, and tracking emails.
Apart from handy tools, you should also follow some best practices. In this article, we shall explain some of the best practices for your 'Right' Email Marketing and explain how you can perform these with a powerful yet cost-effective WordPress email marketing software weMail.
Best Practices Of Successful Email Marketing in WordPress
The main concern for making your marketing efforts successful is spreading specific events regularly. This may be announcements, updates, releases, partnerships, sharing something special, etc. But as we said earlier, these events should be delivered to the right person otherwise all your effort will be of zero use & value.
Now, let us explore the best practices that can be followed in order to create marketing automation. It sounds exciting, right?
Well, marketing automation is the workflow that helps to create automatic events targeted to specific people. This is the key, the 'right thing' for a successful email marketing.
A Proper Onboarding For Your Subscribers
Most of your subscribers will take a decision from the first email you will be sending them. Onboarding is the first impression you should make to your subscribers. This is why a 'Getting Started Series' emails may help you a lot to create the first best impression to your subscriber. Who knows, they might become your customer by seeing the email you have sent.
You should consider breaking down a long email to several parts and automate them to be sent after a specific time span. Basically, when a user subscribes, they receive an onboarding or getting started e-mail. They get another following up e-mail after a week and some more after a specific time.
Evenly Spread Your Events
Your marketing team may be working hard on several campaigns. You must let your subscribers be aware of those campaigns. This greatly helps to create brand awareness and also new people subscribe to your newsletter.
In this way, you can collect more emails and spread your events more regularly or evenly. These new people also receive the 'Getting Started Series' emails you created and eventually converts to leads.
Features or Updates Announcement
While your business grows, you need to provide more services to your customers. Suppose you have a software and you have a major feature update coming up. So how do you plan to let all your user-base know about that? For that, you can simply prepare a customized announcement email for a certain set of user those who are using your software and send it to all of them at once.
But if you don't do it this way then this would be really difficult for you as people won't get to know about your new features, add-ons, or updates. Thus, you need to send these types of emails to specific people who are using specific services.
Send Tips Regularly To Your Subscribers
It's always better to share your thoughts or fun stats & facts with your subscribers. You can send them tips or show something new to help make their life a little easier.
This greatly increases their interest in your newsletter and they might end up buying from you because of those simple tips that you are sending them. You should also regularly explain your features, the benefits of using your services, and many more.
Avoid Spam, Do Not Include "No Reply"
The CAN-SPAM act prevents marketers from using "No-Reply" ( "[email protected]" ) while sending emails to their users. Because it prevents recipients from responding and even opting out of further emails.
Your customers are much more likely to open emails if they know they were written by a human being.
Include an Email Signature
It is better to include an individual professional email signature in your email even if you are sending it on behalf of a company. Because it will portray that the email was sent from a person, not from a collective marketing team. The subscriber will feel special.
Make Use Of Double opt-in
The double opt-in helps to send a confirmation e-mail to subscribers after subscribing to their newsletter. It lets them know that they have signed up and now they are required to click a button to confirm they indeed want to stay signed up or want to activate any email marketing related service.
Use Attractive Email Templates
Customizable email templates will help you create a more effective and eye-catching campaign in a short amount of time. Also, it will increase the click and conversion rate.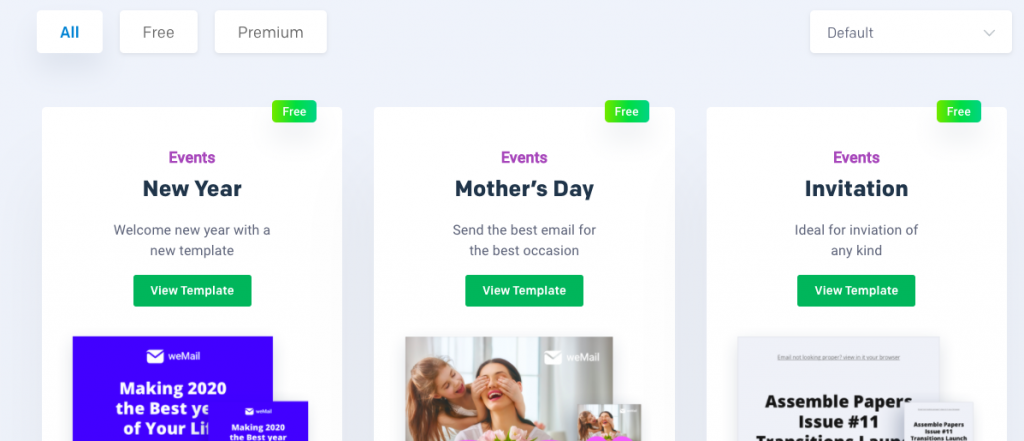 Make Your Email Look Professional
Now, the most important thing on the list is making your email look professional. Yes, being or making your email professional makes your subscribers feel highly of you and your brand. You must study what your subscribers like and deliver them the exact thing they want to see in an email. You can follow the following tips to become a pro in email marketing –
Choose the best structure matching your event
Make the best use of the subject line and clearly explain what's in the email
Influence your subscribers to click on the mail using meaningful link text
Use proper color contrast
Compose your email with easily readable fonts
Add images with proper alt text
Always include a call to action to take readers to your event landing page
Lastly, Conduct A/B Testing
Finally, test your emails before sending. You should test all the aspects of your email, the subject line, the CTA button text and lastly sending the email to yourself first.
A/B testing will help identify your mistakes, improve your conversion, and open click rate.
These are the necessary steps of the email marketing best practices that you need to keep in mind while creating your email campaigns.
Send Professional Emails With weMail: A Simplified WordPress Email Marketing Solution
There are many email marketing software out there. Although, they offer some extensive features that will help you do effective email marketing. However, they are pricey, and sometimes you will feel like you are spending way more than your email marketing budget.
How about if we tell you that there is an email marketing software that will give you the same features with almost half the price. All you have to do is connect it through sending API. Wouldn't you be very much excited to know more about it? Yes, we are talking about weMail.
With weMail, you will get a cost-effective email marketing solution for your WordPress sites that don't put pressure on your email marketing cost. If you are a WordPress user looking to conduct your email campaign in the most affordable, efficient, and easiest way possible then nothing can beat weMail.
It has got some very exciting features like,
Solid WordPress integration with registration, WooCommerce, comment opt-in
Team option to manage an entire team of email marketing with default WordPress users
Various campaign options with attractive templates
List management with auto clean feature
Embed and Opt-in form options
Google Analytics and Campaign overview
Integrations with various forms and more.
As you can see, it offers features that are more than enough to get the most out of email marketing.
Maybe it is getting a bit too theoretical. Therefore, let us show you the process of creating and sending beautiful email campaigns with weMail.
Create Email Campaigns with weMail Hassle-free
Assuming you have your weMail plugin setup on your WordPress site. So, you're ready to create your first campaign using weMail. Let's get started.
You have 7 options to create and manage your email campaign,
Choose a new campaign
Give names & select types
Select templates
See how you can design your one
Send a test email
Save or activate right away
Get reports
Now, go to weMail→Campaign, click on Create New. Here
You may have two or more lists of subscribers. You can choose any of them to send your email.
Next, you will be directed to the Template page. Here you will get to select the templates for your email campaign. weMail has over 100+ free templates to choose from.
In the Design page, you can edit your template from the Content section. You can add text, image, image caption, video, footer etc to your template.
You can test your email by sending a test email to a dummy account. Click on Preview & Test Email. You will get a pop-up window where you will type your dummy email address.
Click Send, and your email will be sent to that address. Once you finish all this, you will be in your last step.
Type your Email Subject, Preheader
Type the email address you are going to send from
And receive your confirmation email
You can see a beautiful & professional email in your inbox.
If you want to know more, you can read this documentation.
So, you can see how easy it is to create even complex email campaigns using weMail. It will not only save your money but also save you time.
All you need is to decide how to conduct your email campaigns, and weMail will take care of the rest.
Conclusion
Emails are always a very powerful medium to get closer to your customers.
Many of the customers purchase products just by seeing a beautifully presented email in their inbox. Sometimes they don't even open the mail. That is why it is considered one of the most powerful forms of marketing.
And in case you have a WordPress website, an efficient WordPress email marketing software like weMail can surely get your job done effortlessly making your life a lot easier. Because it will help you provide value, delight your readers, optimize your subject lines, copy, control send times, and everything else that you need to run a successful email campaign.