Every business person and entrepreneur strives for excellence in their business. There are so many ways to bring about that. Building an email list and conducting email marketing is one of the most effective strategies of all.
Unfortunately, a host of business owners don't value the potential of email marketing. The worst part is they aren't even aware of the fact that they are missing plenty of sales just because they are not carrying out a strong email marketing campaign.
In this article, we will know why you should build an email list for the sake of email marketing. So, sit tight, and let's jump right in!
So, What Is an Email List?
In case you did not know an email list is nothing but a collection of email addresses of your website visitors. In other words, the email lists are usually constructed from the email addresses subscribers, customers, prospects, or leads. However, you can also compile email addresses manually from business cards, or personal contacts too. This is also known as lead generation.
You can later use this email list to notify your subscribers when you are to send out any newsletter, or sales promotions, or announce business news and offers or any email copy you want.
Is It Wise to Buy an Email List?
First of all, it never exactly pays off what you spend. Secondly, it may seem tempting, but buying an email list is never going to be a good idea.
Because it's highly likely that people will probably mark your email as spam if they didn't sign up intentionally for your list. Plus, they may not be interested in your products as they never been to your website.
To tell you the truth, it's neither legal nor ethical to send out emails to strangers without their consent.
Benefits of Building Email List & Email Marketing
Here comes the main part! Why should you build an email list? Well, you will be surprised to know the benefits you will get from building an email list. Let's start with the following statistics that demonstrate how great the impact of email marketing can be: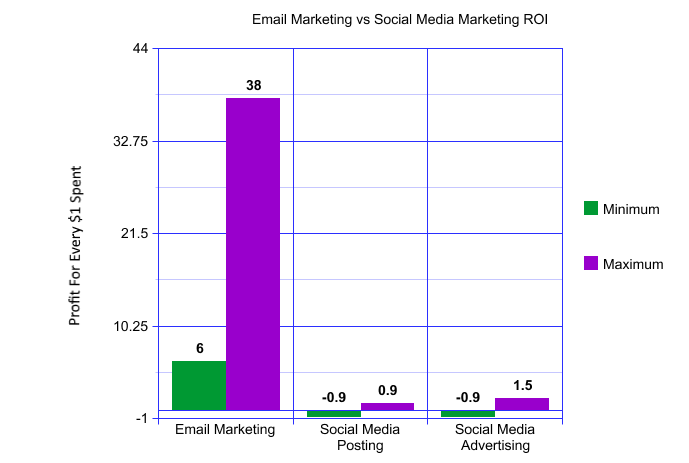 If you are not convinced yet about the power of email marketing, then here is another fact for you,
Businesses and brands are able to increase their ROI by 4,300% on average with strategic, intelligent e-mail marketing campaigns.

SearchEngine Journal
These facts and figures reflects the potential of email marketing campaigns for your business.
Here are some other strong reasons why building an email list is so important:
Never feel your business growth is set in stone, because it can be boosted up effectively with a well-planned email marketing.
If you have not built an email list then you are not at the party with the big guns.
Here are a few important reasons you need email list building for email marketing for your business:
Personal Touch
Get Returning Visitors
Manage Sales Funnel Like a Pro
Be More Trustworthy
Make More Money
Personal Touch
Who doesn't love receiving personal things? Everyone does! Assume that you have won a competition and you have got a crest which contains your name engraved on its surface. Surely, you will feel like you are in the seventh Heaven, won't you?
Similaly, when you are going to knock your customers with a message via email, you must make sure that you have spiced it up with personal touch.
Here is an example of a good personalized email copy:
Get Returning Visitors
Assume that your website drives hundreds of visitors every day. Yet it is quite common that a great number of visitors will leave your site and forget all about your site.
This is why you need to stay on their minds otherwise they might forget you. This is exactly where you can use the personalized email copy to remind them that they are forgetting to buy something from the cart they abandoned.
For instance, if you are running an eCommerce site or a multi-vendor marketplace, a lot of customers lands on your website then view products, add those products to the cart but do not complete the checkout process. You can retarget them not just with retargeting ads but also with retargeting email copies something like this ⤵️
Manage Sales Funnel Like a Pro
To put the number of returning visitors in an even scarier context,
Over 75% of your blog's visitors will never return.

Source: Blogging Wizard
The leakage is too much, isn't it? Well, to maximize the number of returning visitors, you just need to build a sales funnel.
In case you did not know, what a sales funnel is – It all begins with the influx of visitors to your site. Then you will nurture them with the following steps:
Awareness: You will do everything under the sun to make your visitors know about your brand.
Interest: You will be providing value to your customers with great resources.
Decision: Make your customers purchase from your website.
Action: To sustain retention you will need to offer coupons or other incentives to make them buy over and over again.
Build Rapport with Your Customer
Unlike other public medium like billboard, social platform ads, emails are useful in a sense that you can send it personally.
Besides, when you are sending out emails on a regular basis, you will not go away from the memory of your visitors. You can send emails after every 7 days, 10 days or 15 days. But don't send emails too frequently or don't give a huge break. In either of these cases may lead your visitors to unsubscribe to your email newsletters.
Make More Money
Finally, all the activities we are doing starting from building an email list to using them into email marketing are just because we need to make more money by providing value to our visitors.
And like I already mentioned above, an email may lead you to the highest return on your investment:
Bonus: How Do I Grow My Email List Effectively?
There are tons of ways to grow your email list. Some of the most popular ways include:
Using Lead Magnets: Lead magnets work like a charm to acquire leads for building email lists lighting fast. Examples of lead magnets could be collecting email ids in exchange for free eBook, PDF, infographics, tutorials, and the list goes on.
Optimize the Contact Form: If you use too many fields in the contact form then people will be more likely to opt-out from subscribing or inputting their email. Collect First name and Email only. We recommend you use a great form builder that can be easily customizable and that loads faster.
Use a Popup Email Optin Form: A popup email option is one of the most effective ways you can use to rapidly capture leads and build your desired email list faster.
Collect emails using Giveaways: You can ask your visitors and social media followers to share your giveaway on social media in exchange of email address
Offer a Coupon. An excellent option if you have an eCommerce business. Not to mention coupons are a popular example of a lead magnet. People love to get coupons. It is unbelievable how awesome coupons can be to acquire paying customers easily.
Provide Unique Experience with Professional Appearance: When your website is providing unique value along with an appealing look, you won't have to put much effort to get leads. Because people love the uniqueness and so a clean & professional look of a website is the way to have it.
Maintain Relationship with a CRM: If you are using a CRM to maintain sound relationships with the customer along with your leads, then it is a great approach for you. In the WordPress ecosystem, the WP ERP CRM is the best customer relationship management tool to this end.
Related Article: The Fastest Ways to Email List Building for Email Marketing From Scratch (Pro Tips)
How Should You Choose the Best Email Marketing Service?
Here comes the most important part of the article. What is the use of a great email listing when you can not utilize them?
To get the most out of your email listing you just need to use a suitable and cost-effective email marketing tool.
As digital marketers, we use weMail as our comprehensive email marketing tool which is completely free to use. The best part here is that you can send emails to a host of subscribers faster than most other popular email marketing solutions.
That's not all, it is a WordPress based email plugin and the dashboard is really user friendly. You will also be able to select your preferred email sending gateways to check extra costs. And with this email marketing software, you can customize and design the default templates like a pro.
Final Words
Almost every big company in digital marketing is building email list and earning a huge profit from the increased amount of sales. So, why won't you build your own email list then?
Trust me, once you get the hang of it, the process of building an email list will seem like a piece of cake.
In conclusion, we would like to say that if you follow this guide properly, we are pretty sure that you will be successful to build and use the email list to give your sales volume a boost.
If you liked this article, make sure to share this article with your friends and subscribe to our newsletter to get awesome tips and tricks right in your inbox.